Feeding the revolution
Organic grocer Rick Morrell on commerce as activism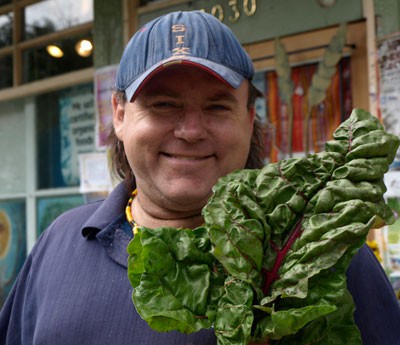 After years of working for cash-strapped environmental organizations, Rick Morrell founded an organic grocery store in 1996 with the goal of providing financial support for the environmental movement. His plan was to donate one-third of profits to local projects, give one-third to business development for non-profits in other cities and use one-third for his own environmental and social initiatives.
Fifteen years later, Morrell is still struggling to find those profits. But, while not yet the powerful economic engine he initially envisioned, the little store, housed in a mainly residential neighbourhood in central Regina, has become a mainstay in Regina's activist community. Eat Healthy Foods donates door prizes and food to dozens of events every year, gives tired food to a local outreach centre and pays local suppliers several times more than what they'd get from a big box store. The store's Community Profits Program, through which 10 per cent of the value of Briarpatch subscribers' purchases is donated back to the magazine, is a unique model of community partnership and cross-promotion.
While it's a challenge to thrive (or, at times, to even survive) within a market where large grocery chains can easily wipe out the small guys through predatory pricing, Morrell remains committed to the vision of a flourishing environmental movement supported by a local, alternative economy. Briarpatch sat down with him to hear more about the challenges of commerce as activism in a go-big-or-go-home economy and the delight of seeing a vision manifest, one morsel at a time.
Why an organic grocery store?
Before I opened the store, I'd been working as an environmental activist for the previous 12 years. One of the consistent limitations and sources of stress among all the groups I'd worked with was money. Our activities were largely being chosen by the funders – we did the projects they would pay for, leaving precious little paid energy for more important work like challenging people's values, materialism or existing concepts of status.
In Saskatchewan, one of the issues that no one in the movement was working on was agricultural chemicals because Saskatchewan Environment and Public Safety wouldn't fund that work. So I concluded that an organic grocery store was the logical vehicle to prove to the movement that commercial activism was the way to make us the money.
That was 15 years ago. How's it going so far?
When the store opened, most people in Regina didn't even know what the word "organic" meant. That has changed. Our competitors and most of the community didn't know what the terms "fair trade" or "free range" meant. Now these concepts are all part of our community's vocabulary and expectations. An appreciation for local food has also taken root.
Through talking about these ideas in the store, at conferences and in the media, I, along with others connected to the store, have contributed to these changes. So I feel very happy with the activist role the store has filled.
Any other exciting projects on the horizon?
I've got a grant proposal in the approval phase of the Go Green grant process. If I get that, we'll be using winter cold air to cool the freezers and coolers at the store. Phase two (efficient compressors) and phase three (wind turbines) of that project will see us become self-sufficient in electrical production. If duplicated widely by other grocers, these technologies would shave four to eight percentage points off Canada's carbon emissions. I hope we can prove that it really is cost-effective so they'll all do it.
Readers like you keep Briarpatch alive and thriving. Subscribe today to support fiercely independent journalism.