"Better than Burma"
Myanmar migrants on the margins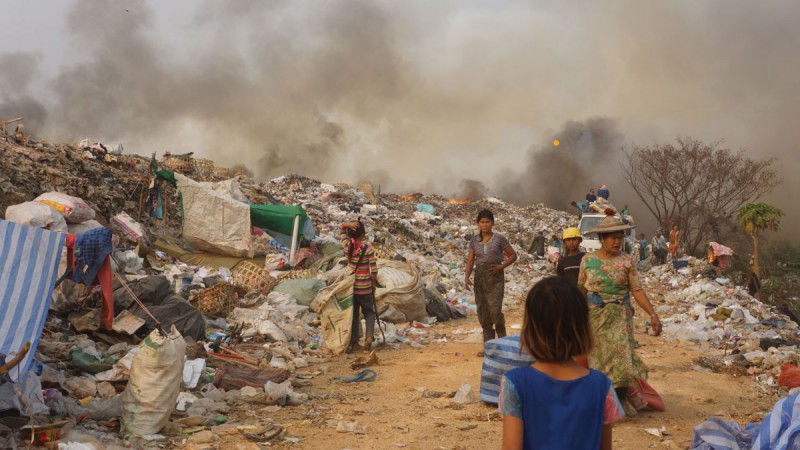 For seven years, Ma Than Yie has lived and worked at the dump outside of the town of Mae Sot, Thailand, six kilometres from the border of Myanmar (officially known as Burma until 1989). After sending her two young sons to school, she makes a five-minute walk from their bamboo home to begin work at 9 a.m., and then usually takes a break just after noon when the day is hottest. Every evening, around 20 trucks arrive at the dump, cueing the start of her second shift of the day. She sorts the garbage until midnight. Workers at the dump will pile garbage bags and plastic bottles for a few days before they are sold to different trucks.
In Mon State, Myanmar, where she has two older sons who live with their grandmother, Ma Than Yie could make around 1,000 Myanmar Kyat (around $1 CAD) a day, though work was scarce. She needed at least 2,000 Myanmar Kyat each day to feed her family, so she followed her brother, who left years earlier, to Mae Sot in search of work.
At the dump, one kilogram of white plastic bags can be sold for 1 Thai Baht and one kilogram of black garbage bags for 2 Baht. Beer cans are sold for 2.5 Baht, beer bottles for 1 Baht, and one kilogram of plastic bottles for 12 Baht. Ma Than Yie makes 600 Bhat a week: the equivalent of around $20 CAD.
Ma Than Yie, like many migrants, does not have a Myanmar passport and is not permitted to cross Myanmar borders legally.
"Now [in Thailand] I have one document that was issued by the head villager," she tells me via a translator as she sorts plastic bags, pressing them into larger bags. "It is not legal but proves I live here. The police never check this area so we don't have problems."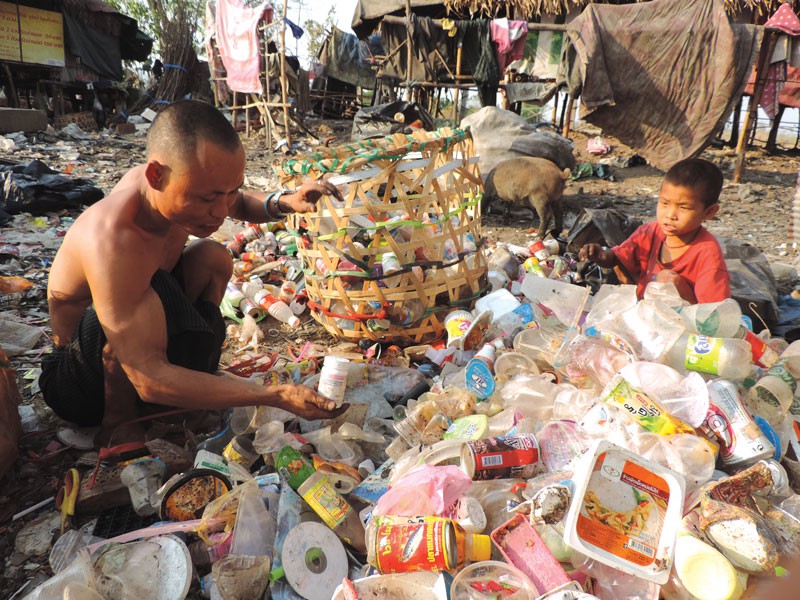 Conflict, migration, and work
Ma Than Yie is one of an estimated 2.5 to three million Myanmar migrant workers in Thailand.
In 1948, when Myanmar became independent from Britain following the Second World War, the new country was formed on nationalist lines for the Bamar majority. The rights of minority peoples such as the Karen, Kayah, Mon, and Shan were disregarded. As a result, Myanmar has been fraught with an asymmetrical conflict between armed ethnic minority groups and government forces for over six decades. Amnesty International has reported on crimes against humanity in eastern Myanmar, particularly against the Karen minority group, including "unlawful killings; enforced disappearances; the imposition of forced labour, as well as the destruction of villages, crops and food-stocks and other forms of collective punishment."
U Sein Htay, co-founder and director of the Thailand-based organization Migrant Worker Rights Network, identifies civil war as a primary reason Myanmar people began crossing the Thai border in the later part of the 20th century. But he says that the main reason people stay in Thailand is economic hardship in Myanmar.
Myanmar workers migrated in increasing numbers during the 1980s, filling a labour shortage in Thailand, with many finding work close to Bangkok and Samut Sakhon. Neither the Thai nor Myanmar governments set policies to protect migrant workers.
Pro-democracy uprisings in Myanmar in 1988 saw the mass jailing of activists and the killing of thousands by Myanmar's ruling military junta, the State Law and Order Restoration Council, which sparked an influx of Myanmar migrants to Thailand.
"Since 1992, there have been periods when [Myanmar migrant workers] could register as temporary workers through their employers in Thailand," explains U Sein Htay. "But the registration of Myanmar migrant workers [by the Thai government] has never been consistent." Following a dubious general election held in 2010, a government was installed in 2011. The election was boycotted by the National League for Democracy, chaired by pro-democracy icon Aung San Suu Kyi, and the government was called "quasi-civilian" by international observers.
Thein Sein, the Union Solidarity and Development Party vice-president and a former Tatmadaw commander, assumed the presidency. Regardless of international praise for President Thein Sein's reformist policies, the constitution still requires that the Tatmadaw (the armed forces) be represented in 25 per cent of parliamentary seats. Today, hundreds of thousands of internally displaced persons face communal violence in Rakhine state and ongoing civil war in Kachin state. More than 100,000 refugees live in official Thai refugee camps.
Both a village and a dump
At least 1.7 million Myanmar migrant workers completed a joint Thai/Myanmar national verification process between June 2009 and August 2013, travelling to Thai government passport offices on the border to verify their identities. According to U Sein Htay, they were not required to provide Myanmar identification.
Upon completion of the verification process, they received a temporary Myanmar passport, valid only for travel to Thailand, as well as a two-year Thai visa, extendable to four years, and a Thai work permit.
Ko Myo Thant is among these workers. He spent one year working in Samut Sakhon, 35 kilometres west of Bangkok, and met his wife, Ma Thiri, there. Last year, the two of them moved to the dump where his father and mother had been living for over a decade.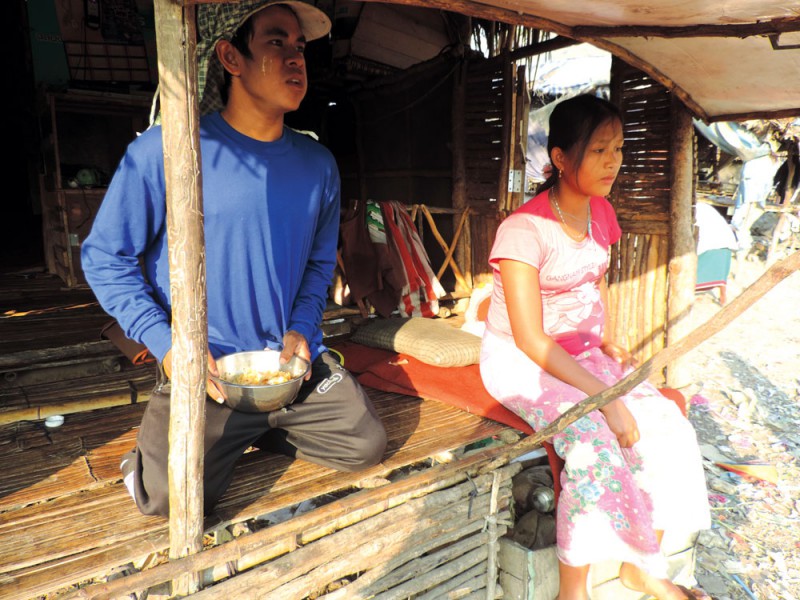 Because he has a passport and work permit, Ko Myo Thant is able to work for the Thai government. He works on the trucks that bring waste – and work – to villagers every day. But his visa will soon expire, and the process for getting a permanent passport is fraught, mediated by expensive brokers and corrupt bureaucrats.
Still, Ko Myo Thant says, "I never think of going back (to Myanmar)," as we sit with his wife opposite a mountain of trash, our legs dangling from the edge of their bamboo floor. "Conditions are better here. I have work here."
The village is like an extension of Myanmar and, according to Ko Myo Thant, mirrors the infrastructure – or lack thereof – in his home village in Mon State. Most residents of the dump/village do not have passports, Thai visas, or work permits. Most are Mon or Karen, who have their own languages, or Myanmar.
A dirt road loops the dump in the centre of the village, connecting Ko Myo Thant's home with a recently built community centre. Villagers gather daily at the large bamboo house for the shaved ice machine, cups of instant noodles, or basic medical care at the new clinic.
There are no latrines in the village, and battery-powered lights fill bamboo homes at night. Villagers relieve themselves wherever they can – behind bushes or piles of garbage. There is a stream close by, where villagers bathe, and three large reservoirs of drinking water, which are refilled at least twice per week by the non-profit community organization Eyes to Burma, founded by Fred Stockwell.
When I visited, Ma Thiri was seven months pregnant. She told me she planned to give birth at the Mae Tao Clinic, founded by Dr. Cynthia Maung, a veteran fighter for access to health care for Myanmar refugees and migrants. The clinic is in the town of Mae Sot, a 20-minute drive from the dump, and offers free medical care to Myanmar migrants and refugees. Ma Thiri and Ko Myo Thant said Stockwell would drive them to the clinic.
As the village quiets down after a day's work, Ko Myo Thant's mother fries chicken over a small charcoal-burning stove in front of the family home. In the warm light of dusk, she nudges the sizzling meat, her family behind her waiting for dinner.
If they stay in their place
In 1995, U Sein Htay left Mawlamyine in Mon State – his hometown in southern Myanmar – via a boat headed for Thailand. He arrived in Ranong in southern Thailand, hid in trucks transporting other migrants without status, and trekked through the jungle to avoid immigration checkpoints. He arrived in Samut Sakhon where he peeled shrimp and packaged tuna and also worked on a fishing boat. U Sein Htay had paid a broker to bring him to Thailand and worked for one year to repay him. After that, he was able to send money back to his parents through another broker.
He co-founded the Migrant Worker Rights Network in Samut Sakhon in 2009. The Yangon office opened in 2013, and its membership now exceeds 3,000 Myanmar migrant workers in Thailand. The organization, funded by membership fees and donations, lobbies the Thai and Myanmar governments for policies to protect migrant workers.
"These migrant workers with expired visas used a huge amount of money to get temporary passports," says U Sein Htay. "Now they are illegal again, and they don't believe either government because no one is responding to help them. They sit and wait like I did 20 years ago when Myanmar was a closed country and there were only illegal [migration] options."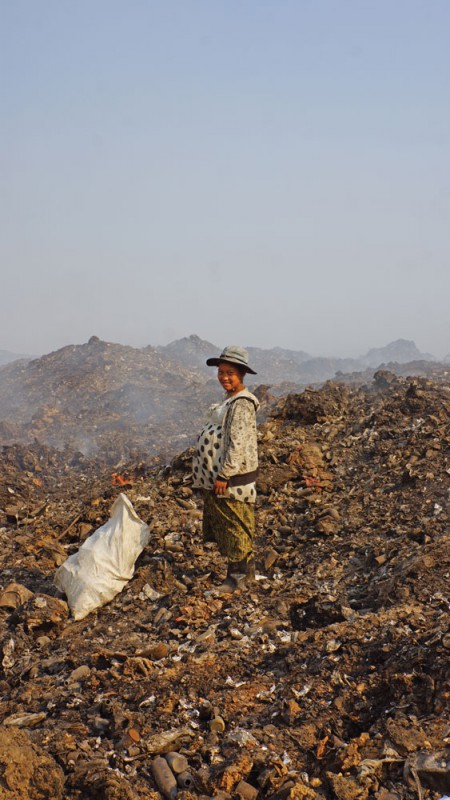 This April, more than 200,000 Myanmar migrant workers in Thailand had their Thai visas expire with no option for renewal or extension and no response from the Thai or Myanmar government. U Sein Htay says every day the status of another 1,000 migrant workers turns precarious.
The Migrant Worker Rights Network is demanding the Myanmar government renew or extend existing temporary passports so migrant workers are not forced to apply for permanent Myanmar passports.
"The migrant worker faces problem after problem after problem," says U Sein Htay. "They just worry; they try to solve problems legally or illegally just to reach stability." U Sein Htay estimates there are 200,000 to 300,000 Myanmar migrant workers in the Mae Sot area, outnumbering the Thai population.
"The social and economic structure is broken in Mae Sot; they need Myanmar migrant workers to fill factories and construction sites," said U Sein Htay. "If they don't go anywhere and stay in their working place, the Thai police do not arrest them."
This said, a recent coup in Thailand (May 22) has compounded the visa issue for migrant workers. There has been a crackdown on migrant workers without papers and many have been sent back to Myanmar. The new
military government has also indefinitely postponed policy talks with the Myanmar government.
"If I have work, I am happy"
Back at the dump/village outside of Mae Sot, Ko Than Zaw squats to sort plastic containers outside his home. He chews betel (an addictive plant common in Southeast Asia) and uses a stick to redirect a piglet headed toward his pile.
Ten years ago, he left his home in Bago region in eastern Myanmar and crossed the Moei River, which parallels the Thai-Myanmar border in the Mae Sot area.
"In Bago, there were no jobs for me; we had no money and no food," he explains. "This is better than Burma."
Ko Than Zaw has never been issued a passport, Thai visa, or work permit. He has raised three sons at the dump and says he has no intention of leaving.
"How can I say I am unhappy?" he says, shaking his head as if to tell me the answer is obvious. "If I have work, I am happy."
Readers like you keep Briarpatch alive and thriving. Subscribe today to support fiercely independent journalism.