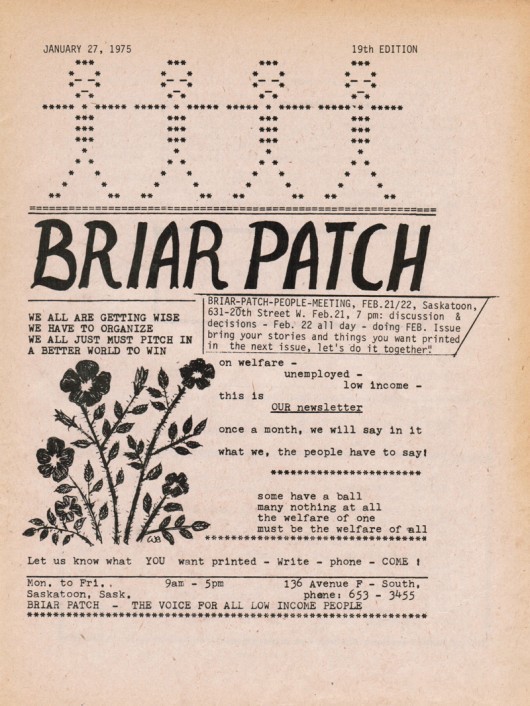 Last Wednesday, we shared with you the alarming news that we are in financial trouble. While Briarpatch has always been a lean operation, the current state of affairs is different from our regular scrappy status: we've been having trouble making ends meet, to say nothing of the pace at which we were falling behind on magazine standards, including fair contributor pay and a strong digital presence that could ensure that our articles could build social movements across communities.
We had to create a new plan for Briarpatch, one that would guarantee that we could stay in print, pay our contributors what they deserve to be paid, and keep growing. The alternatives were grim: reduce the frequency of publishing the magazine, or fold altogether.
The first and crucial step of our plan has been our fundraising campaign.
On Wednesday, the first day of our campaign, $4,430 in donations poured in. Now on day six, 84 donors have helped us reach $10,910! The labour movement has been a significant support: thank you to the Regina & District Labour Council and the union of Briarpatch staff, RWDSU, for their generous donations.
We've also welcomed 78 new and renewed subscriptions and a heartening subscription renewal of 100 copies from COPE 397. Our community of monthly sustainers has also grown; as of today, we'll have $285 more in income every month (and we hope this will continue to grow). With regular monthly donations, our goals can be sustained for the long term.
We're six days into a 38-day campaign to raise $15,000 – maybe even more – and we're overjoyed by your generosity and determination to keep Briarpatch in action.
Your donations, subscriptions, and sustaining commitments leave us feeling uplifted, hopeful, and re-inspired to continue building Briarpatch. Thank you for tweeting, sharing, and emailing your words of encouragement and appreciation. It's clear to us that independent media is cherished by many. We in turn cherish you, our readers, and we thank you for supporting the work it takes to speak truth to power.
Your support has given us the power to refocus on the tasks ahead. While the September issue is now in production, we are also building long-term funding for the years ahead. Alongside our board members and dedicated volunteers, we are creating a plan that will ensure that we don't run into a similar financial crunch in the future. We'll keep you posted on the details once we have them confirmed.
Please continue spreading the word about Briarpatch's financial need. We're close to meeting our goal of $15,000, but we won't rest until we meet or surpass it; our goal represents an opportunity to recharge Briarpatch for the next 43, 86, and 172 years of resistance.
Standing humbly and gratefully with you,
Tanya Andrusieczko and Rhiannon Ward
Editor and Publisher
P.S. If you're a member of a union, please consider encouraging your local to subscribe! If you'd like to advertise, drop us a line!
P.P.S. Thank you again.