Writing Contest Shortlists!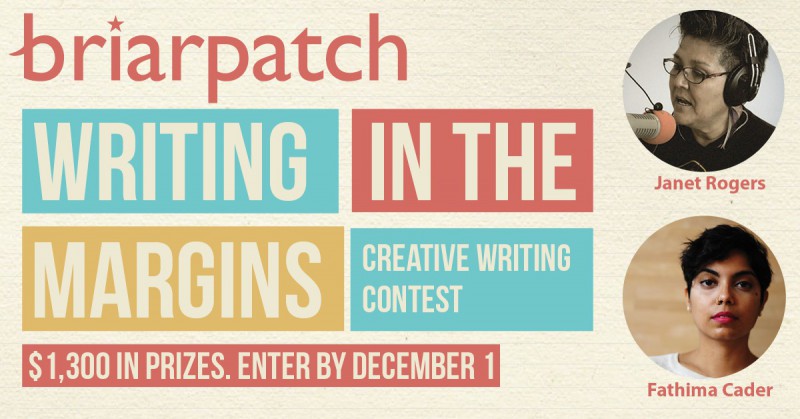 Briarpatch is delighted to announce the shortlisted entries in our seventh annual Writing in the Margins contest. Thank you to all of the writers who shared their work with us, and congratulations to our shortlisted writers!
Creative Non-Fiction Shortlist
Ginger Rogers by Karen McCauley; Sudbury, ON
The McGill Experiments by Leonarda Carranza; Brampton, ON
Of Body by Mary Chen; Richmond, B.C.
dead is dead by Quin Lawrence; Vancouver, B.C.
November Threads by Kathleen Yearwood; Vilna, AB
Poetry Shortlist
Geography Lessons by Rebecca Salazar; Fredericton, N.B.
Black Canadian History in Schools by Sonya Littlejohn; Williams Lake, B.C.
Vancouver Seawall, third bench from the dock by Jody Chan; Toronto, ON
Whether … Weather by Gillian Harding-Russell; Regina, SK
In Between by Tresley Tourond-Bouvier; Regina, SK
Our judges, Fathima Cader (creative non-fiction) and Janet Rogers (poetry) will select one winner and a runner-up in each of their respective categories. The winners will be published in our March/April issue and the runner-up stories will be published online on this website in coming weeks.
We will announce the best hometown entry in the coming days!