Winners and Runners-Up of Writing in the Margins Contest!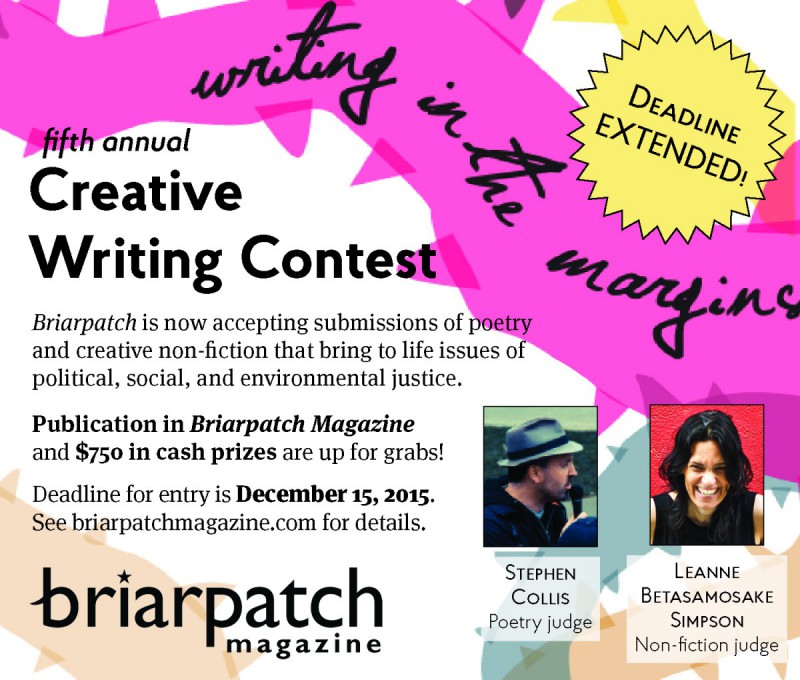 The March/April issue of Briarpatch features the winners of the Writing in the Margins contest! Entries were submitted from around Canada and the world, showcasing a stunning breadth of voice, talent, courage and insight.
Briarpatch would like to congratulate Laurel Albina, chosen by Stephen Collis, for her winning poem Energy Series: Surface Mining, and Siku Allooloo, whose creative non-fiction piece Living Death was selected as the winner by Leanne Betasamosake Simpson. Both pieces are published in the current issue!
Chris Galvin's story, Bombshell and Phillip Dwight Morgan's poem, Free Trade Agreement are the well-deserving runners-up. "Bombshell" and "Free Trade Agreement" are published online. Congratulations!
Congratulations are also in order for Iryn Tushabe, whose story Gone won the Best of Regina category!
Thank you to Leanne Betasamosake Simpson and Stephen Collis for their expert and generous work supporting emerging writers. Thank you also to ARP and Paper Umbrella for contributing to the prize package for "Gone."
Most of all, thank you to all writers and poets who continue to challenge oppression and who champion resistance, growth, and solidarity. We are indebted to those who harness words to make justice imaginable and possible.