Fifth Annual Writing Contest: Announcing the short lists!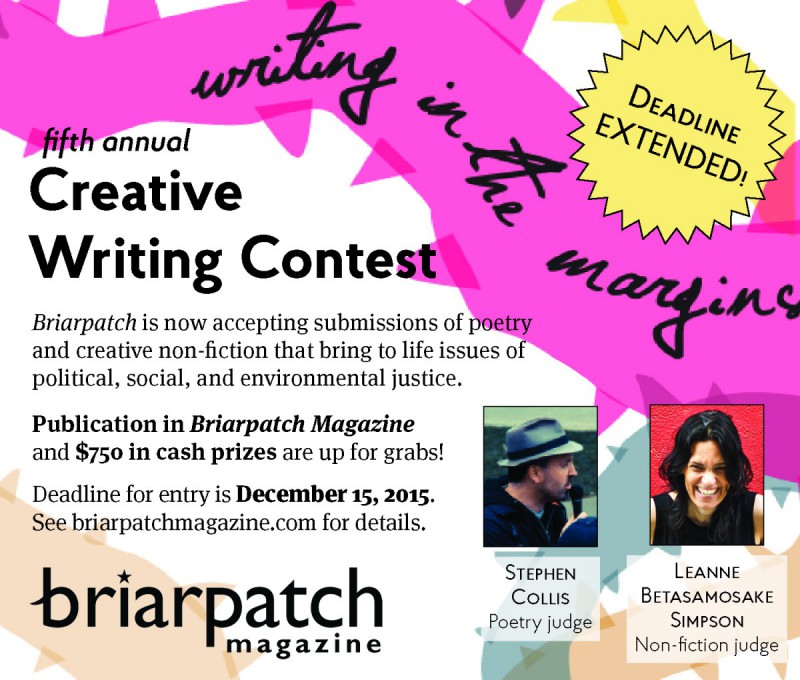 Briarpatch Magazine is delighted to announce the shortlisted entries in our fifth annual Writing in the Margins contest. Thank you to all of the writers who shared their stories and poetry with us, and congratulations to our shortlisted writers!
Creative Non-Fiction Short List
Bombshell by Chris Galvin, Pointe Claire, QC
Two Special Dresses by Cullene Bryant, North Vancouver, B.C.
The Third Place by Senka Eriksen, Victoria, B.C.
Living Death by Siku Allooloo, Fort Smith, NT
New Year's Eve 1984 by Troy Andrew Sebastian, Victoria, B.C.
Poetry Short List
Found: A daughter's list to survive a Winter semester in Ottawa by Lynn Easton, Maple Ridge, B.C.
Love Potion No. 78 by Rebekah Hart, Montreal, QC
Thus These Winds by Sandra Cairns, Aklavik, NWT
Free Trade Agreement by Phillip Dwight Morgan, Toronto, ON
Energy Series: Surface Mining by Laurel Albina, Vancouver, B.C.
Congratulations to Iryn Tushabe for submitting the best entry from Briarpatch's home city of Regina. Iryn will receive a package of writers' delights: just-published books of non-fiction and poetry courtesy of ARP, and a beautiful gift from Paper Umbrella. Iryn's story, "Gone," will be published online in the coming weeks.
Our judges, Leanne Betasamosake Simpson (creative non-fiction) and Stephen Collils (poetry) have selected one winner and a runner-up in each of their respective categories. The winners will be published in our March/April issue and the runner-up stories will be published online on this website in coming weeks.