Call for pitches: Briarpatch's 50th anniversary issue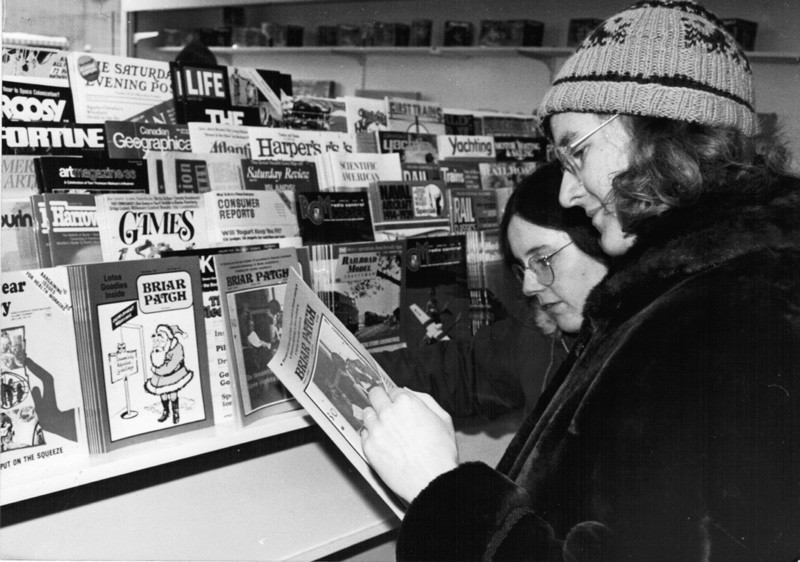 Pitches for the January/February 2023 issue are due September 5.
In 1973 Notes from the Briar Patch rolled off a Gestetner as a ten-page, stapled-in-the-corner newsletter, giving poor people a voice in Saskatchewan. In 2023, Briarpatch Magazine will celebrate its 50th anniversary – now as an award-winning national magazine, focussed on grassroots politics and action.
In the January/February 2023 issue, we're publishing a special 50th anniversary issue of the magazine. We want you to tell us about what the magazine means to you: we're accepting letters to the editor through this Google Form. Here, you can share brief reflections, memories, and words of encouragement or critique. Some of these letters will be published in the 50th anniversary issue.
The story of Briarpatch has always been one part of a larger story of independent publications supporting social movements. So in this special issue, we're celebrating half a century of Briarpatch, and we're also looking for stories about the present and future of independent, left-wing media in Canada.
What we're interested in
For those submitting a pitch, below is a partial list of suggestions. We invite submissions beyond the themes listed here.
Part of the issue will celebrate Briarpatch's history and present. We're interested in articles about:
What Briarpatch means to you. How did it impact your community or your political education?
Important issues the magazine covered long before mainstream media did – like Indigenous sovereignty, resource extraction, feminism, and police violence – and the influence this had
Briarpatch's relationship to a changing Saskatchewan: the evolving politics of the magazine and the province, the local publications (Sasquatch, Sask Dispatch), and Briarpatch's presence in rural Saskatchewan
The many ways Briarpatch has scraped together funding to stay afloat over the past 50 years
Briarpatch's relationship to the labour movement and the NDP
The other part of the issue will look at the community of independent, left-wing publications in Canada:
How are publications and journalists practicing types of journalism that move us toward a better world? For example, movement journalism, solutions journalism, and/or anti-colonial journalism
How can independent, left-wing outlets mount a real challenge to right-wing political forces and media?
Biting the hand that feeds: indie publications maintaining editorial independence while maintaining funding
The impact of tech giants like Google and Meta on independent publications, our funding, and our reach
Addressing racism, sexism, sexual violence, and bad labour practices within independent and left-wing media
How podcasts, newsletters, and social media are changing how independent media reaches audiences
The joy, promise, and challenges of making media by and for Black, Indigenous, and racialized people
Independent left-wing media's relationship to the labour movement and to the NDP
Engaging (or not engaging) with major, corporate media
How to pitch
We're looking for articles, investigative reporting, historical analysis, photo essays, timelines, personal essays, reviews, profiles, recommendations, lists, humour, comics, and art for the issue. Pitches for the Jan/Feb 2023 issue are due September 5.
Your pitch should outline what ground your contribution will cover, give an estimated word count, and indicate your relevant experience or background in writing about the issue. If you haven't written for Briarpatch before, please provide a brief writing sample. Send pitches to pitch[at]briarpatchmagazine.com.
Before pitching, take a look at some of our back issues to see what we have recently covered. Please review our submission guidelines and a guide to pitching Briarpatch to improve your pitch.
We aim to reply to every pitch – including those we reject. However, because of time constraints, this isn't always possible. If you don't hear back from us within three weeks following the pitch deadline for the issue that you submitted to, please assume that we won't be accepting your pitch. Feel free to pitch us again for future issues, though!
Our rates are as follows:
$150 – Profiles, short essays, book reviews, and parting shots (generally 1,500 words or less)
$250 – Feature stories (generally 1,500-2,000 words) and photo essays
$350 – Research-based articles and investigative reporting (generally 2,000-2,500 words)
If your pitch is accepted, first drafts are due October 3, 2022, with an intensive collaborative editing process lasting until the second week of November. We reserve the right to edit your work (with your active involvement), and cannot guarantee publication.
Stay tuned for more 50th anniversary celebrations coming in 2023!