2021 Writing in the Margins Shortlist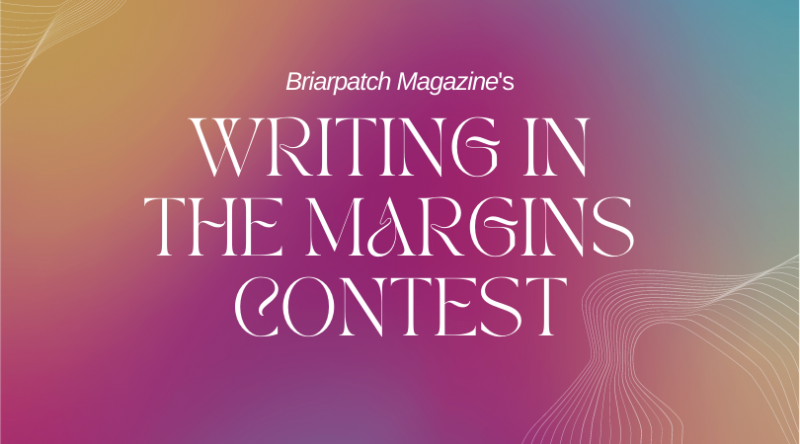 Every year for the past decade, Briarpatch Magazine has held an annual Writing in the Margins contest. We accept entries of fresh creative non-fiction, poetry, and photography that bring to life issues of social and environmental justice. We want writing and photos from the edges – from new creators who have something important to say, or from longtime creators who can show us a new way of seeing things.
We are delighted to announce the shortlisted entries in our 11th annual Writing in the Margins contest. Thank you to all of the writers and photographers who shared their work with us, and congratulations to our shortlisted entrants!
Creative Non-Fiction Shortlist
Blinded by the light by Lana Hall
Dinner with a view by Beeta Senedjani
In exploring home (age nineteen): From Garden River to Hamilton by Chyler Sewell
That things can change by Barney McLeod
The deep by Andrew W. Boyd
Poetry Shortlist
If i were a white girl by Jamie Smallboy
Indigo sun by Rachel Jones
physics lesson for settlers by Meghan Eaker
Tāłtān hunter by Lori Burger
TEENAGE DREAM by Lena Andres
Photography Shortlist
CF patients in Ontario fight For Trikafta by Laura Proctor
Hangashore castaways by Gina Granter
Taking deep leafy breaths: Pandemic gardens and mental health by Selena Phillips-Boyle
The residents of the Happiness Inn by Joanna Gigliotti
Whispers by Bisma Jay
Our judges Amber Dawn (creative nonfiction), jaye simpson (poetry), and Jeff Bierk (photography) will select one winner and a runner-up in each of their respective categories. The winners will be published in our March/April 2022 issue and the runners-up will be published online on this website in March. We will announce the best hometown entry in the coming weeks.
This contest was possible thanks to a grant from the Regina Public Interest Research Group (RPIRG).