2020 Writing in the Margins Shortlist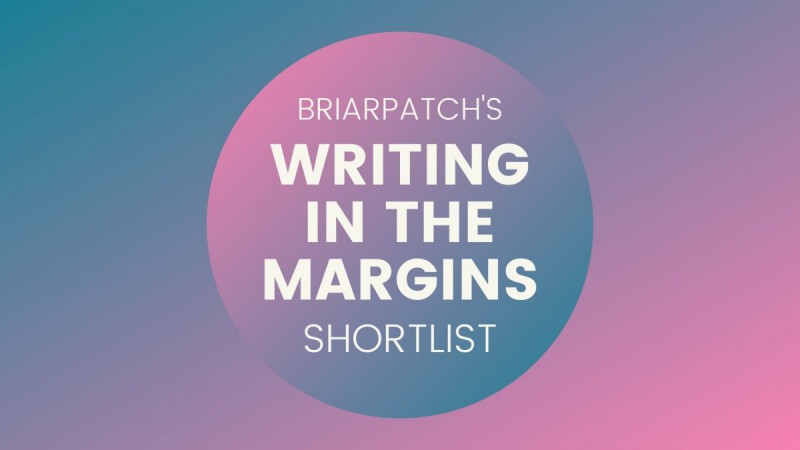 Every year for the past decade, Briarpatch Magazine has held an annual Writing in the Margins contest. We accept entries of fresh creative non-fiction, poetry, and photography that brings to life issues of social and environmental justice. We want writing and photos from the edges – from new creators who have something important to say, or from longtime creators who can show us a new way of seeing things.
We are delighted to announce the shortlisted entries in our tenth annual Writing in the Margins contest. Thank you to all of the writers and photographers who shared their work with us, and congratulations to our shortlisted entrants!
Creative Non-Fiction Shortlist
Clock Me Like One of Your French Girls by Paula Bodgan; Regina, SK
Charades by Jude Morton; Victoria, B.C.
Crawlspace by Sandra LaFleur; Toronto, ON
Dear Mom: A Love Letter by Sam Gill; Toronto, ON
We Are The Boat's People by Vina Nguyen; Calgary (Moh-kíns-tsis), AB
Poetry Shortlist
a simile is more honest than a metaphor thank you no questions at this time by Daniel Sarah Karasik; Toronto, ON
Acknowledgement by Judy LeBlanc; Fanny Bay, B.C.
Neither Time by Zarmina Rafi; Mississauga, ON
Spirits by Nikki Shaffeeullah; Toronto, ON
Sweet Potato Vine by Emily Macrae; Toronto, ON
Photography Shortlist
Land Back Camp by Shawn Johnston; London, ON
Peace Camp by Paula Kirman; Edmonton, AB
PLEASE LISTEN by Paula Razuri; Toronto, ON
Unsettling the Suburbs by Patricia Landolt (Toronto, ON) and Paloma E. Villegas (San Bernardino, CA)
You've Messed With The Last Generation by Laura Proctor; Toronto, ON
Our judges Larissa Lai (creative non-fiction), Sonnet L'Abbé (poetry), and Pat Kane (photography) will select one winner and a runner-up in each of their respective categories. The winners will be published in our March/April 2021 issue and the runner-up stories will be published online on this website in the coming weeks.
We will announce the best hometown entry in the coming weeks.
This contest was possible thanks to a grant from the Regina Public Interest Research Group (RPIRG).