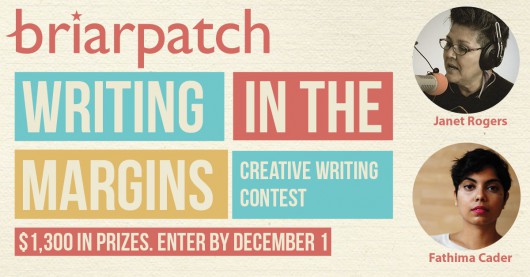 DEADLINE

:

DECEMBER

1, 2017

Briarpatch is now accepting submissions of original, unpublished writing for our seventh annual creative writing contest in the categories of creative non-fiction and poetry. Have your work read by judges Janet Rogers (poetry) and Fathima Cader (creative non-fiction), and enter to win cash prizes totalling $1,300 and publication in Briarpatch Magazine!
HOW

TO

ENTER

Briarpatch is seeking fresh, creative writing that brings to life issues of political, social, and environmental justice. We want writing from the edges – from new writers who have something important to say, or from longtime writers who can show us a new way of seeing things. We're looking for bold and courageous writing that pushes the boundaries between fact and fiction, journalism and prose, deconstructing tough issues in inventive ways.

Non-fiction submissions should not exceed 2,000 words and poetry entries are limited to one poem that should not exceed two pages in length.

Entry fee:

Your $25 entry fee gets you a full year's subscription to Briarpatch (regularly $29.95), which makes it hard to lose. This fee helps to cover the costs of organizing, promoting, and administrating the contest, as well as the cash prizes.

Please note that U.S. submissions cost $40 and other international submissions cost $45 to cover the additional costs of postage for your subscription.

Deadline:

The deadline for entry is December 1, 2017. Any entries received after midnight Central Standard Time on this date will not be considered.

We will confirm receipt of your entry within three business days. Winners will be notified, and their names published on our website, in January.

Submission Details:

Please e-mail your entries to contest@briarpatchmagazine.com with the subject "Writing Contest." The body of your e-mail should include the following information:

Author's full name
E-mail address
Mailing address (for your subscription!)*
Phone number
Submission Title
Category (poetry or creative non-fiction)
How you intend to pay (cheque, online, phone)

Please attach your submission as a Word or PDF document. Your submission should include the title of your work, but in order to ensure fairness and anonymity in judging, please do not indicate your name on the submission itself.

To pay your entry fee online with your credit card or PayPal account, click here:

Payment can also be made by cheque or cash (mailed separately with your name clearly identified), or over the phone with your credit card.

Please submit only one entry per person.

*If you are already receiving Briarpatch, please indicate whether you'd like us to renew your subscription for one year, or give this subscription as a gift (in which case we'll need the address of your gift recipient).

In order to reach new subscribers, Briarpatch occasionally trades its mailing list with like-minded organizations. If you prefer not to be included in these trades, please indicate this in your e-mail.

Prizes:

Contest winners will be published in the March/April 2018 issue of Briarpatch and will each receive $500.

Honourable mentions will be featured online alongside contest winners at briarpatchmagazine.com and will each receive $150.

Best local entry (entrant based in Regina and surrounding area) will receive a special prize package (we will announce the prizes in coming weeks!).

Judging:

This year's poetry entries will be judged by Mohawk/Tuscarora writer from Six Nations, Janet Rogers.

Janet was born in Vancouver, B.C., lived in southern Ontario, and has been living as a guest on the traditional lands of the Coast Salish people (Victoria, B.C.) since 1994. Janet works in the genres of poetry, spoken word performance poetry, video poetry, and recorded poetry with music. She is also a radio broadcaster, documentary producer, and media and sound artist. Her literary titles include Splitting the Heart (Ekstasis Editions 2007), Red Erotic (Ojistah Publishing 2010), Unearthed (Leaf Press 2011), Peace in Duress (Talonbooks 2014), and Totem Poles and Railroads (ARP Books 2016). Her radio documentaries, Bring Your Drum: 50 years of Indigenous Protest Music and Resonating Reconciliation, won Best Radio at the imagineNATIVE Film & Media Arts Festival in 2011 and 2013.

This year's creative non-fiction entries will be judged by Fathima Cader.

Fathima Cader's recent and upcoming publications include creative non-fiction in Hazlitt and Warscapes, poetry in Apogee Journal and Canadian Woman Studies: les cahiers de la femme, and criticism in The New Inquiry and The Funambulist. She practices law in Toronto, and teaches at the Faculty of Law at the University of Windsor, where she is also a Senior Fellow with the Faculty's Transnational Law & Justice Network. She is interested in all types of borders and in the migrations of war.

Other details:

Entries must be original, unpublished, and not submitted simultaneously to other publications or contests.

Entrants must agree to be bound to the contest rules. The decisions of our keen-eyed judges are final.

Winners may be requested to engage in a collaborative editing process with Briarpatch editors prior to publication.

Thank you to our sponsors, ARP and RPIRG.