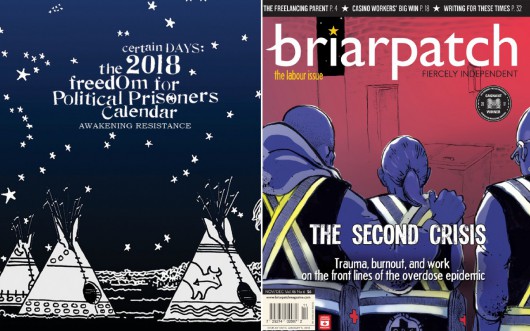 This holiday season we've paired up with our friends from Certain Days for a gift package that keeps giving all year long.
The Certain Days: Freedom for Political Prisoners Calendar is a joint fundraising and educational project between outside organizers in Montreal and Toronto and three political prisoners being held in maximum-security prisons in New York State – David Gilbert, Robert Seth Hayes, and Herman Bell – committed to doing work grounded in an anti-imperialist and anti-racist perspective.
Give a 1-year gift subscription to Briarpatch Magazine PLUS a Certain Days: Freedom for Political Prisoners Calendar with 36 pages of full-colour art and writing FOR ONLY $35!
Head to our subscribe page and select the Certain Days 2018 Calendar from the ADD-ONS section.
Certain Days works in solidarity with anti-colonial struggles, political prisoners, and the rights of undocumented citizens and migrants. Certain Days is queer and trans liberationist. They raise awareness of political prisoners and prisoners of war (PP/POWs) in North America and abroad, many of whom are now in their third decade of imprisonment. People on the streets should understand the history of today's social justice movements and how that history is linked to solidarity for PPs/POWs.
This year's theme is "Awakening Resistance," and features art and writings by Jesus Barraza, Fight Toxic Prisons, Serena Tang, Andrea Ritchie, Roger Peet, Sophia Dawson, Rasmea Support Committee, EE Vera, Herman Bell, Fernando Marti, Alexandra Valiente, Billie Belo, Arlene Gallone Support Committee, Marius Mason, David Gilbert, UB Topia, April Rosenblum, Design Action Collective, Sundiata Acoli, Crimethinc, Annie Banks, Mutope Duguma, Xinachtli, Zola and more.
The proceeds from Certain Days 2018 will be divided among these groups: Addameer Prisoners Support and Human Rights Association, Release Aging People in Prison and other groups in need.
If you're looking for a gift that offers justice and inspiration to that special person in your life long after the holidays, place your order today! This offer is valid until December 16.
2 EASY WAYS TO ORDER YOUR GIFT:
OR
Call us toll-free at 1-866-431-5777.
Just looking for standard Briarpatch gift subscriptions for friends and family?
=> Give 1 gift subscription for only $29.95
=> Give 3 gifts for the price of 2
=> Give 10 gifts for the absurdly low price of $125!