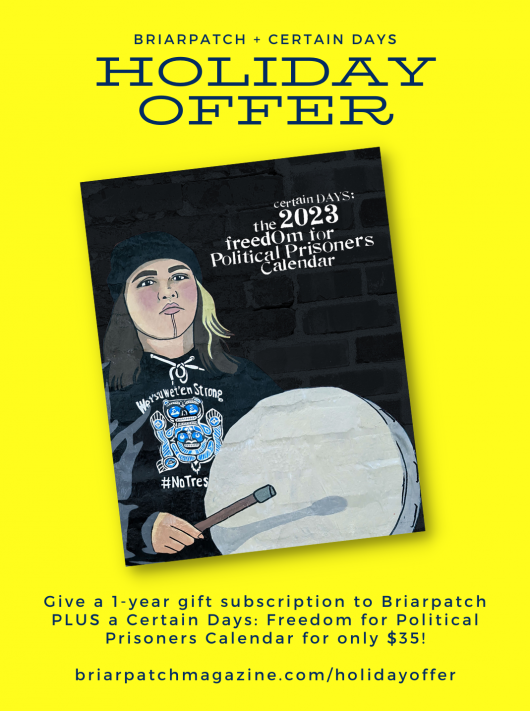 This holiday season we've paired up with our friends from Certain Days for a gift package that keeps giving all year long:
Give a 1-year gift subscription to Briarpatch PLUS a Certain Days: Freedom for Political Prisoners Calendar for only $35!
(The $35 offer is also valid if you want Briarpatch and Certain Days for yourself – we won't tell.)
The Certain Days: Freedom for Political Prisoners Calendar is a joint fundraising and educational project between outside organizers in Montreal, Hamilton, New York, and Baltimore; and current and former political prisoners. Proceeds from the calendar go toward supporting a number of grassroots groups.
If you're looking for a gift that offers radical inspiration to that special person in your life long after the holidays, place your order today!
Two easy ways to order:
Head to our subscribe page and select the Certain Days 2023 Calendar from the "Add-ons" section.
Or call us toll-free at 1-866-431-5777
Just looking for standard Briarpatch gift subscriptions for friends and family?
About Certain Days
Certain Days works in solidarity with anti-colonial and anti-imperialist struggles, queer and trans liberation, political prisoners, and undocumented people and migrants. They raise awareness of political prisoners and prisoners of war in North America and abroad, many of whom are now in their third decade of imprisonment. They believe that radicals today should understand the history of today's social justice movements and how that history is linked to solidarity for political prisoners and prisoners of war.
"The power of this calendar is its deep connections to our living history through people and struggles that help us develop historical consciousness. It roots us in the continuity of who we are as people working for liberation."

—Activist and writer Chris Crass
This year's calendar features art and writing by Zola, Jeff Monaghan and Andy Crosby, Kill joy, Noelle Hanrahan, Juan Hernandez, Dan Baker, Antiproduct, Upping the Anti, Katy Slininger, David Gilbert, Paul Lacombe, Garrett Felber, Oso Blanco, Mark Tilsen, Terra Poirier, Steve McCain, Lawrence Jenkins, Ed Mead, Windigo Army, Dio Cramer, Roxanne Dunbar-Ortiz, Scott Parkin, Seize the Mean and Cindy Barukh Milstein.
Proceeds from the Certain Days 2022 calendar were divided amongst Release Aging People in Prison (RAPP), Mutulu Shakur legal support, Sundiata Acoli release fund, Palestinian Youth Movement, Burning Books expansion, Puget Sound Prisoner Support, Coalition to Decarcerate Illinois, Appalachians Against pipelines, Community Resource Initiative- CA, P4W Memorial Collective Prisoners' Justice Day healing circle, Wet'suwet'en Solidarity Fund 2022, Cascadia Forest Defenders and NorCal Resist. Proceeds from the 2023 calendar will go to some of the same grassroots groups and more.