"The best game you can name"
Hockey is no stranger to militarism, but radical fans aren't about to call the game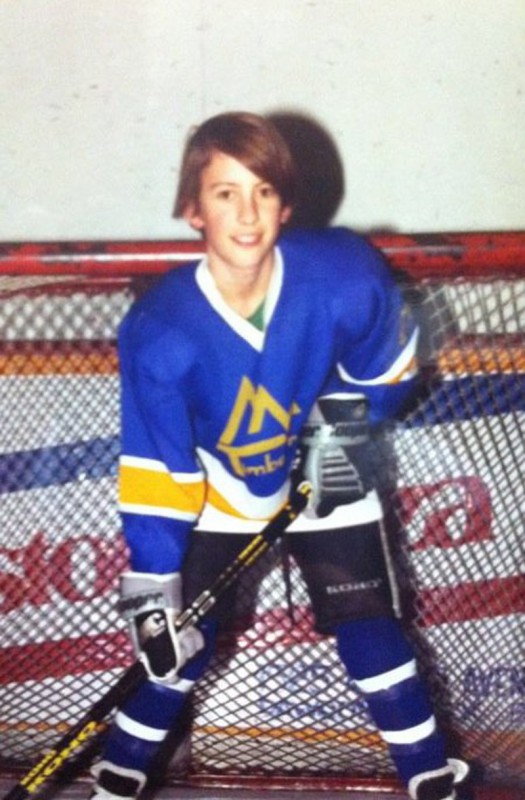 Fifteen thousand people pack the seats of the sold-out MTS Centre in Winnipeg. They cheer wildly as the home team Jets rush the puck up through the neutral zone. Cheers erupt louder still as shots are fired on goal, bodies slammed brutally into boards, and pucks are buried deep in the visitor's net.
Players hustle back and forth over the ice in jerseys emblazoned with the symbol of a fighter jet atop a red maple leaf, circled in white and blue. According to Mark Chipman, chairman and governor of the Winnipeg-based True North Sports & Entertainment, the logo was designed not only as an homage to the "rich history and relationship" between the Royal Canadian Air Force (RCAF) and the City of Winnipeg, but also in direct consultation with the Department of National Defence.
Since the new logo was announced in July, merchandise bearing the new design has flown off the shelves of local retailers, providing support for the local club as well as a surge of positive, free publicity for RCAF.
"The logo seems to be some sort of hybrid between an F-18, an F-16 and an F-27," observes Chris Hannah, rabid hockey fan and member of Winnipeg punk band Propagandhi. Hannah, the son of a Cold War fighter pilot, first learned to play hockey on an RCAF base in rural Manitoba at age five. As Hannah says, the jet depicted in the logo is "a machine that's built to secure geopolitical interests by destroying the infrastructure and people that stand in its way. It's no different than a machine gun."
Unfortunately, professional sports are no stranger to militarization. With its focus on discipline, heavy hitting and physical violence, hockey is no exception. NHL teams have long hosted military appreciation nights, though they have become much more elaborate spectacles of late. At the most recent NHL awards at the Palms Hotel in Las Vegas, U.S. army officers rappelled from the rafters at one point during the ceremonies.
Television commentator Don Cherry is perhaps the most blatant example of how militarism has fully ingrained itself into our country's hockey culture. Cherry regularly follows his tough-guy coaching commentary with a blanket endorsement of support for Canadian troops fighting in Afghanistan on his weekly Coach's Corner, broadcast during CBC's Hockey Night in Canada.
"I think it's fine to remember these soldiers who have passed away," says Joey Keithley, of legendary punk act D.O.A., a veteran recreation league hockey player and anti-war activist. "Fair enough, right? But when you see the Dominion Lending commercial 'Don Cherry knows dogs, Don Cherry knows hockey,' it should come with a caveat: 'Don Cherry knows fuck all about politics!'"
Despite the "rock 'em, sock 'em" propaganda espoused by commentators like Cherry and the nationalistic rhetoric in which much of the game is shrouded, professional hockey still holds a strong appeal for radical and left-wing fans of the sport. Cultural icons like the late CBC broadcaster Peter Gzowski described hockey as "the game of our lives," while the hockey chronicles of
Dave Bidini, founding member of the Rheostatics, wax poetic on the beauty of a borderless culture of hockey, a global community united by a love for the game.
"Hockey is a captivating sport," says author and activist Yves Engler. Based out of Montreal, Engler is a Canucks fan at heart, a loyalty he shares with Keithley.
Engler is no stranger to the inner workings of the competitive hockey system, having played Junior A hockey until the age of 19 against the likes of current NHLers Scott Gomez and Michael Ryder. Engler later quit hockey and became heavily involved in radical student politics at Concordia University.
"I recognize that politically, professional hockey has some major downsides," Engler says, "But on the level of kids playing sports and the camaraderie, it's a very good thing."
Cashing in on the fervent nationalism embodied in the Vancouver Olympics, the annual World Junior Championships, and the last Stanley Cup finals, conservative commentators have succeeded in further entrenching the "hockey is life" trope into the dominant national discourse. By branding "conservative values" as part and parcel of "the game of our lives" – whether by Cherry's weekly warmongering or by rebranding the Winnipeg Jets – conservatives have scored another point in their ongoing effort to realize the slogan they so champion: "Canadian values are conservative values."
But the game isn't over for either conservative or radical hockey fans. While the new Jets logo and the increasing militarization may leave some fans feeling as though they "simply aren't welcome at the rink," as John K. Samson, Jets fan and co-founder of Arbeiter Ring Publishing, put it, there is no need to call the game yet.
While the odds seem to be stacked heavily against a leftist hockey narrative, there is nothing more exciting in hockey than an underdog coming from behind to topple an arrogant, top-seeded team.
By continuing to challenge the sinister influence of un-bridled militarism masquerading as harmless sport – whether on blogs, in print or song, or simply on TV in a living room or bar – radical hockey fans can certainly still come from behind and, with luck, hard work and perseverance, survive to play the game again and win in a rink where all fans are welcome.