What to Make of Germany's Ban of Linksunten Indymedia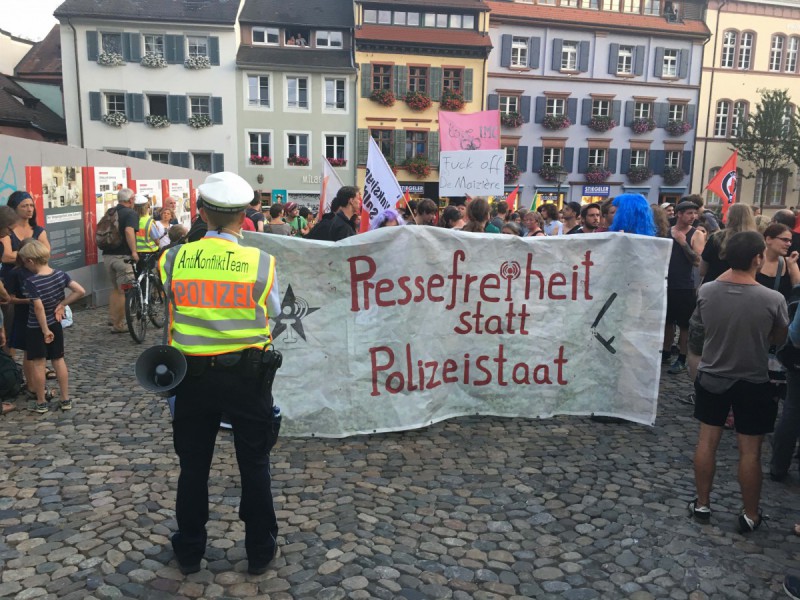 On August 25, 2017, the German government declared it illegal to use the Indymedia linksunten website, along with its email and Twitter accounts, and conducted mass police raids on a social centre and on private residences of people it identified as central to the site's operations.
Linksunten launched in 2008 to serve as a more radical complement to the existing German Indymedia site. It has grown into what CrimethInc describes as "the most widely used German-language platform for radical politics and organizing." As the Socialist Equality Party (SGP) put it, linksunten's "main focus was the struggle against right-wing extremism, anti-refugee agitation and war."
The primary official justification for shutting down the site was that linksunten played a role in supporting the communication in planning for and reporting on the violent and criminalized G20 protests. But this explanation is seen as a pretext for something deeper.
The shutdown occurred just ahead of the German elections at the end of September, and can be seen as an appeal to anti-left voters, while also silencing a platform where information and analysis is shared that could affect the election results. The ban on linksunten may get less attention than it deserves in the commotion of the campaign.
The attack on freedom of the radical left press can be seen in the wider context of the rise in explicitly white supremacist and fascist movements, and the importance of radical media and communications in liberation struggles.
Announcing the ban, Germany's Interior Minister Thomas de Maizière labelled the site "the most influential Internet platform for violent left-wing extremists in Germany." He employed Germany's law of associations to dissolve the site, asserting that linksunten published content that the government deemed criminal and anti-constitutional – the two vague categories of activity the law covers.
Rather than treating linksunten as media, which is constitutionally protected, the government treated it as an association. Reporters Without Borders Germany criticized the ban as "constitutionally questionable" and pointed to the extensive surveillance of linksunten by the German state: "authorities have by now been able to identify several alleged administrators of the website. It is therefore not evident why they neither summoned these to delete the incriminated posts nor sued them, choosing instead to ban the website as a whole."
The German government's 2016 Annual Report of the Protection of the Constitution repeatedly references posts on linksunten in connection to incidents identified as problems or threats. One such threat was a post last year on linksunten doxxing participants of the far-right nationalist party Alternative For Germany (AfD)'s convention.
The AfD – which has no federal parliamentary seats but has a strong likelihood of winning some this election – has been calling for action against the site since the doxxing. After the ban this August, an AfD regional parliamentary group demanded that the government classify all anti-fascist organizations as terrorist organizations in order to prove that their ban wasn't just an electoral tactic, but would be permanent.
Die Linke ("The Left") party, which holds federal opposition seats, decried the ban. The party's domestic affairs spokesperson Ulla Jelpke described it as "an illegitimate act of censorship," "an arbitrary limitation of freedom of expression and freedom of the press," and "a threat to all other media in which today's revolutionary and anti-capitalist positions are still being discussed. The left scene in Germany as a whole is being intimidated."
Other statements posted online against the ban and in solidarity with linksunten came from German prisoner solidarity organization Rote Hilfe eV ["Red Aid"], Indymedia collectives in Cyprus and Aotearoa, Coordination des Groupes Anarchistes (France), Anarchist Federation (Greece), and IT Kollektiv. An extended list is here (mostly in German).
Freedom of speech has been a lightning rod for the current rising tide of explicitly white supremacist and fascist groups and movements in North America and Europe. Some people advocate for restricting the rights to expression of those they consider to be intending harms toward marginalized groups, while others feel that advocating for the state to curtail free speech rights may result in the same restrictions being turned against those working for just causes.
"No platforming" is a specific aspect of the freedom of speech issue; it is a tactic of direct action to stop speakers and events promoting views that are considered oppressive and harmful. The ongoing debate around no platforming calls to mind the diversity of tactics debates that contend with whether violence – and at what levels – is an acceptable resistance tactic. It's a debate that arose with the global justice movement and the "black bloc" in the late 1990s and early 2000s, and is relevant to the positions on the use of violence by antifa (anti-fascist activists) in present events.
The linksunten case, CrimethInc writes, "represents a massive escalation in state repression against what the authorities call 'left-wing extremism,' disingenuously suggesting an equivalence between those who seek to build communities beyond the reach of state violence and Neo-Nazis organizing to carry out attacks and murders like the ones in Charlottesville."
Similarly, Indymedia Aotearoa writes, "For a number of years, German politicians have been pushing the 'extremism theory', which equates left-wing with right-wing 'extremism' and proclaims to condemn both equally. The completely different nature and intent of a riot against a capitalist head-of-state meeting and firebombing a refugee hostel is deliberately ignored. This then paves the way for the mainstreaming of right-wing populists."
The criminalization of radical movement media like linksunten reveals the threat our communications face under increasingly authoritarian conditions. Various Indymedias have seen this pattern in other forms since the network's founding at the 1999 protests in Seattle against the World Trade Organization – raids, seizures of webservers, and attacks on Indymedia centres established to cover summit protests. The German case indicates the extent to which existing legal structures can be harnessed by states to muzzle activists.
But the threat of authoritarian conditions exists – and flourishes –in partnership with the less visible threats contained in the corporate control of the most widely used communications platforms online, and of control of the internet itself.
Indymedia as a technological and philosophical structure holds seeds to challenge the corporate and state control of communication. (For a full explanation, see "Holding Out for Un-alienated Communication," published in Briarpatch last January and written by the Indymedia Montreal 2016 Convergence Working Group.)
Robert McChesney offers a salient analytical tool for understanding the corporate and state control of communication. In his 2012 book Digital Disconnect: How Capitalism is Turning the Internet Against Democracy, he notes: "what is emerging veers toward a classic definition of fascism: the state and large corporations working hand in hand to promote corporate interests, and a state preoccupied with militarism, secrecy, propaganda and surveillance."
Indymedia Aotearoa writes, "unlike the commercial offerings from google and facebook [sic] which insist on collecting extensive information from their users, indymedia allows anonymous posts. This means that while the state authorities can of course read everything that is posted, they have a hard time finding out details about the poster. Most countries now have legislation that allows the state to collect user accounts from providers like facebook and twitter, often without even a warrant, but the same cannot be done with indymedia sites because indymedia collects no user information (even those sites that require a user account collect only an email address and no further personal information). That is why the state is shutting down an indymedia site and not facebook [sic]."
We should be asking how we can defend and be in solidarity with linksunten Indymedia now, and with other independent radical media in the future facing similar attacks.
There are important questions we work toward answering: How can we defend radical media against attacks like linksunten is experiencing? How can we build, sustain, and grow media projects, platforms, and technology that are vital to our movements? How do we create overall communications conditions, infrastructures, or ecosystems that can facilitate liberatory change? And how do we work together for these things?
The call for international solidarity on September 9 from Freiburg, the city where the raids occurred, may refocus and widen attention on the linksunten situation while fostering recognition of the broader potential dangers.