From the ground up
Meet the women at the forefront of their communities' transition from forestry to farming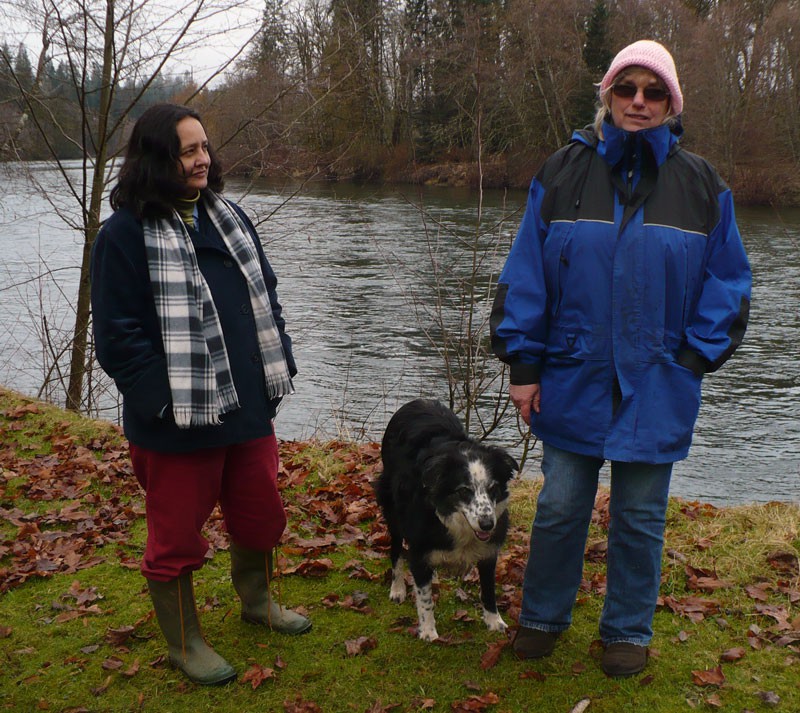 The first thing I see as I drive into the small town of Port Alberni on Vancouver Island is the pulp mill, or rather the steam from its stacks. This has always been known as a logging town, although over the last decade or so not much logging or milling has been happening. The fact that I'm not here to talk to pulp mill workers, but rather to farmers, is a sign of the changing times.
On the West Coast, agriculture has always taken a back seat to logging, which has generated a lot of money for folks in these company towns. But the money has come with little concern for the environmental and social costs of the logging industry, and it has created a dependency on outside investment. Now, as the export-the-trees-and-import-everything-else economy seems to be running out of steam, there's renewed interest in small-scale farming as both a way to make a living and as a community resource. And in contrast to the decades of focus on the male-dominated forest industry, this movement is in many cases being led by women.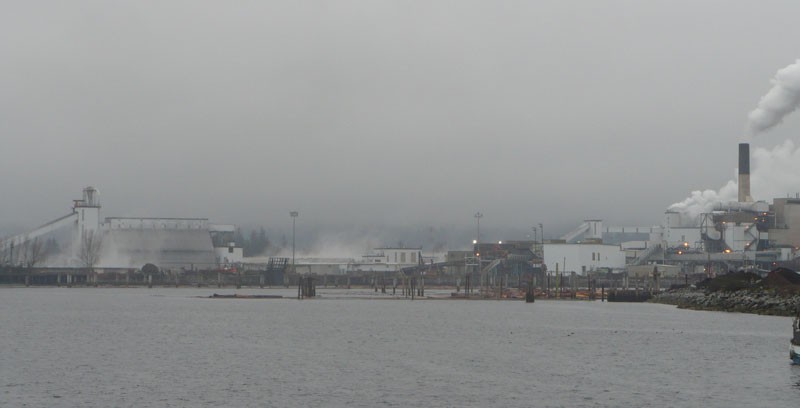 Port Alberni
Port Alberni is the territory of the Nuu-chah-nulth First Nations, nestled in a valley in the island's interior. It's separated from the island's populous east side by the Beaufort Range, close as the crow flies but isolated by its mountainous geography. At one time it had some of the highest per-capita income rates in Canada, but these days the mill employs just 280 people, according to operator Catalyst Paper's website. The downturn has given the town what local farmer Jen Fisher-Bradley calls a "down-and-out identity."
But Fisher-Bradley doesn't let it get her down. She is the founder of the Women's Food and Water Initiative (WFWI), a non-profit organization that creates grassroots solutions to food and water issues in the context of rapid climate change. Community is fundamental to food security, she says. "Food security is something we can't just do as individuals. Even if you manage to secure food and water for yourself, if nobody else has it then you're in trouble. We need to work together."
WFWI is involved in growing food and vegetables for market on four urban lots in Port Alberni, as well as growing and selling seeds that are acclimatized to the Alberni Valley. Working with the Hupacasath First Nation, they operate a greenhouse on a tract of agricultural land owned by the Nation. "Food and water matter to everyone and have always been women's traditional territory," says Fisher-Bradley, "and yet women in our society make less money than men. Women are the primary caregivers of our society, so if you incapacitate women in that way, you incapacitate society." Empowering women to address that income gap through work that also improves the community and the environment is the motivation behind WFWI.
Agriculture has always meant empowerment to Seva Dhaliwal, too. Dhaliwal came to Canada from India in 1976, joining her husband who was working in the logging camps. She became a farmer almost by accident when she saw that a neighbour's blueberry fields were being neglected. "I felt sorry for those plants," she says, and jumped in to clear the small acreage of weeds. "The farmer came and saw how much work I did… He suggested we start farming together."
Soon Dhaliwal was marketing berries and employing other women in the community, doing all the work but splitting the profits with the landowner. At one point, the farmer decided it was too much to manage and intended to take the plants out entirely. "They wanted to cut it down with power saws because it was just a hobby they didn't have time for. I said no, that's a sin! We did all the work, you can't do that."
Dhaliwal found herself starting a company in order to make a more firm agreement with the landowner. When the logging camp that employed her husband shut down, they had to fight to get the unemployment insurance he was owed because Dhaliwal was paying her staff while personally taking a loss on the berry farm. "Because we take care of our workers first and pay the landowner and have nothing left for ourselves, they accused us of hiding income. I had to fight for our farm then. We work so hard and I won't give it up."
Now Dhaliwal's farm sells 40,000 to 50,000 pounds of berries each year. Dhaliwal contends that it's the spirit of women working together that keeps it going. "Lots of times I have been called a troublemaker because I use my voice. But women, we have patience, we know how to stand up for ourselves and how to bring people together."
Across town, Jennifer Dyson raises beef cattle on her organic farm. Like Dhaliwal, she also tells me that farming organically takes patience. "We've become so accustomed to a quick fix," she says. "You can't look at the land that way. You need to look long-term." That's a paradigm shift from the cut-and-run forestry companies that built so many of these coastal communities, and I say as much. Jennifer laughs. "That old logging mentality, I know. But so many folks in this community are committed to the environment. They care about conservation because they don't just work in the woods, they live and play there. They also care about making a living, though."
I ask Dyson about making a living from farming and she doesn't seem worried. "People come to us because they care about good food." She maintains that the direct connection to food and farmer are more important to her customers than price. "We ask a fair price, and we get it. And let's face it, you can eat pretty darn cheap if you buy whole food. It's about people's priorities."
But for a town where owning two trucks and a boat was once the norm, adjusting to spending less on material comforts and more on food is no small task. Nowadays in Port Alberni the fancy cars and the big trucks towing boats are mostly from elsewhere and headed through town for the beaches of the Pacific Rim. So who is this "good food" going to, and what about everybody else?
Farmer Ann Collins has a simple answer for that. "If you can't afford to pay the farmer a fair price, then grow your own." If more people did that, she maintains, they would understand and value their farmers. The Collins' beautiful riverside organic farm produces cattle and chickens, vegetables, award-winning Broadleaf Maple syrup, and also has a campground and guest cabins. Still, they struggle to get the prices they need to come out ahead at the end of each year. "Globalization is the huge problem," she says. "People are used to cheap food."
Collins and Dyson agree that priorities matter, and that the work to do is to build connections with people so that the community sees all the other values that farms provide for the area in terms of food security, environmental benefits and meaningful work.
Both Ann Collins and Jennifer Dyson have been involved in creating the Alberni area's agricultural plan. The draft plan identifies profitability as a serious problem, with farmers making about eight cents on every dollar spent. Port Alberni's economic development manager Patrick Deakin acknowledges that agriculture has been overlooked. "We're looking at agriculture as part of our economy for the first time in decades," he tells me.
But the economic diversification scheme doesn't say much about agriculture, focusing more on projects to attract tourism and industry. "Our farm plan is just being put together," he maintains, "so it's early to say how that translates [into policies]."
Forestry is still seen as a big part of the picture. "Many people here believe [forestry] could still be thriving if we had left the commodity mentality behind many years ago," Deakin says. So is government missing the point, or just slow to get moving on agriculture issues? At this point, it's hard to say.
All the farmers I talked to agreed that education is a big part of the picture. According to Jennifer Dyson, "People need to understand how much work goes into growing their food," and also how important farms are in protecting the local environment that supports the humans.
Both Dyson and Collins run farm tours and school programs at their farms to connect kids with farming, and the Women's Food and Water Initiative incorporates education into all their work and even into what they sell, teaching people about seeds and seed saving as they sell their locally adapted seed varieties. It looks like women are becoming the leaders of a new food culture in Port Alberni.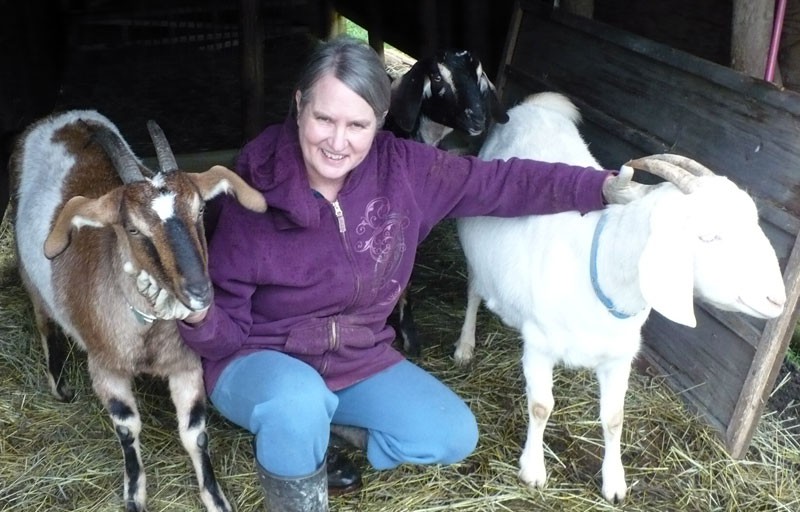 Powell River
Across the strait on the B.C. mainland, there's a similar story brewing in Powell River. Located on the territory of the Tla'Amin First Nation, inlets and high mountains cut the town off from the rest of the mainland, making it accessible only by water. The Catalyst pulp and paper mill there currently employs just over 200 people, although at one time it was the biggest pulp mill in the world.
The change has been hard on everyone, including farmers. And yet, Powell River has been the site of a huge resurgence in local agriculture, in part because of its unbroken agricultural history: it has the longest continually running farmers' market in the province, hosts the annual 50 Day, 50 Mile Eat Local Challenge that last year had hundreds of participants, and is Canada's first GMO-free crop zone.
Wendy Devlin has been farming on her 10 acres just north of town in a historically agricultural area for 20 years. "There was very little farming left in this town by 1980," she tells me. "It declined through the '60s and '70s because everyone worked at the mill and made big money."
It used to be the mill or nothing, so after high school most kids would leave town. This is one of the main reasons she thinks women's leadership has emerged in the agriculture community in Powell River. "We want our kids to stay around, so we need to make sure there's something to keep them here."
It hasn't been easy. One of the biggest blows to small farms in B.C. came in 2004 when new inspection rules ended all on-farm slaughter and meat sales in the province. It was devastating to the province's farmers – indeed, the draft Alberni Valley Farm Development Plan mentions the meat regulations as a major barrier to strengthening the farming sector on that side of the water. Over in Powell River, the local Farmers' Institute decided to fight.
"When they changed the regulations, nobody thought about rural places like us," says Lisa Daniels, one of Wendy Devlin's neighbours. "They just came into town and said 'you can't do what you've always done.' It was so illogical."
It would have been a two-day trip costing hundreds of dollars for Powell River farmers to get their animals to the closest inspected abattoir. The Farmers' Institute drafted a proposal in which the main request of the bureaucrats was that they come and experience the community's isolation first-hand. "We said, 'come here and talk with us, see what we do. And please don't fly, come by ferry,'" recounts Daniels.
"When they saw how small the farms here are, and how far out we are, they got it." Eventually Daniels and her neighbours linked up with farmers from other isolated communities, in Haida Gwaii and Bella Coola, and worked with provincial authorities to license farmers to slaughter and sell their own meat. It's quite a coup for small farmers, with province-wide implications in favour of safe and accessible local food.
"It was a really great process," says Daniels. She chalks it up to the people involved and their ability to build relationships and have meaningful dialogue, respecting each others' skills and priorities. "You've got some pretty independent people out here, who are used to solving their own problems. You can't just come in and tell those people what to do from Victoria."
I remark on how all the Powell River folks who were involved were women. "We're often the ones behind the change, the ones driving it," agrees Daniels. "Farmers need to stop taking it on the chin and stand up and fight." Her fighting spirit echoes that of Seva Dhaliwal and Ann Collins, women who aren't going to let their farms go down and their way of life disappear. And it seems that, with the surge of interest in local food across the country, the tide is starting to turn their way.
The beginnings of change
It's hard to tell where these communities are going next. Powell River's economic development platform talks a lot about development, tourism and attracting outside industry. Lisa Daniels isn't surprised. "We have elected officials who are out courting trash-burning and tree-cutting companies instead of looking at what we already have."
But that's beginning to change, too. Wendy Devlin points out that the economic downturn is changing people's minds. In regards to the meat regulation process, Devlin acknowledges that she was cynical at first. "People love to criticize the government, and so do I. But they started listening with the economic downturn."
It's not just the substance of the local economy that's changing, but the form, too. Localizing the food system stands to bring the economy that surrounds food into line with other priorities like meaningful work, a healthy environment and strong community networks.
Women's involvement in agriculture is certainly nothing new, but maybe now that the security blanket of the logging industry has been yanked out from under these company towns, folks are ready to listen. Wendy Devlin thinks so. "It took the local food movement coupled with the economic downturn to galvanize the local farming resurgence."
Bringing people together plays a big part, whether it's organizing with other farmers to lobby for what they need or forming relationships with their customers that keep people coming back to them even when times get tough.
For generations, women's volunteer work building community has been quietly holding these towns together while the men were out doing the "real work" in the woods. But with women leading the resurgence in local agriculture, it's looking hopeful that this work can finally be acknowledged as real work, too.
With climate change and peak oil poised to render our globalized food system completely impossible, people are rediscovering the importance of food and farming. That means recognizing the importance of the work of building community, work that everyone needs to lend a hand in. "Now is the time for those of us that care about food security to be organizing," says Jen Fisher-Bradley back in Port Alberni. "A time will come when suddenly we are out of time, and we'll need to just be growing food," she says. "We need to be ready."
Special thanks to David Parkinson of the Powell River Food Security Project.
Readers like you keep Briarpatch alive and thriving. Subscribe today to support fiercely independent journalism.