Decentralized and data-driven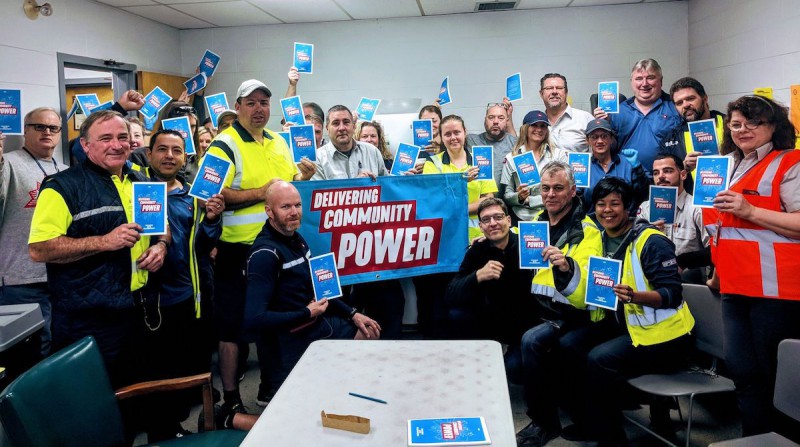 "We don't use emails, we're postal workers."
That was a common refrain in the Canadian Union of Postal Workers (CUPW) up until a couple of years ago. Since then, though, things have changed – postal workers have embraced data and digital communications, and have used it to build the union's power in incredible ways. Last May, CUPW brought me on to continue that approach, and I've been working to relaunch their Delivering Community Power campaign.
The campaign is the most ambitious project I've worked on. Delivering Community Power aims to transform Canada's post offices into community hubs of renewable energy, with expanded services that include everything from letter carriers checking in on seniors to a public postal bank. It's a cornerstone in what could be Canada's own Green New Deal. To win, it'll take nothing short of a social movement.
Behind this campaign lies a question: how can labour unions use digital tools and data to scale their advocacy, and bring in big, decentralized organizing to build social movements around them?
Catching up to non-profits
In the last couple years, I've written about how, in campaigning, unions have been lapped by non-profit organizations – and how the political landscape could change if they caught up. Small non-profits with limited budgets and few staff have demonstrated their ability to contact millions of people, direct massive online advocacy at politicians, and even get thousands of people into the streets.
CUPW is, in many ways, the perfect place to put those ideas into practice. Until recently, the union's main form of communication with members has been through bulletins that it sent to locals, which were then pinned to the bulletin boards in the break rooms. Only a small fraction of workers saw them, and it was difficult for them to respond or to get involved.
But CUPW has been increasing its use of digital and social media over the last few years, and has showed a willingness to innovate. Right now the union emails local presidents, and sends periodic email newsletters out to a growing list – but CUPW understands that it's essential to keep improving direct communication and engagement with rank-and-file members.
To win, it'll take nothing short of a social movement.
CUPW is the most militant union in the country. Their advocacy has won incredible victories over the years, from paid maternity leave in 1981 to stopping Harper's cuts to door-to-door delivery in 2015. They already have a national network with solid activists in each province, and regularly return strike votes above 90 per cent.
But, like most unions, some CUPW locals still struggle to make quorum at meetings, or to involve more than the usual cadre of activists. There are few ways for members to get involved with the union's advocacy work beyond signing a postcard or attending a local meeting. This is characteristic of the entire labour movement. Also, as in other unions, membership demographics are shifting. More young women and racialized people have joined CUPW's membership in recent years; involving them will be key to growing the labour movement.
I was explicit when I started that the strategy was to identify and train new activists. Instead of asking local leadership (who are already overworked) to take on yet another project, I wanted to recruit new members who were passionate about our vision. If we're going to win anything of significance, we need to engage a mass amount of people – both inside the union and out. That means involving non-CUPW members as leaders, too – something that's almost unheard of within the labour movement. Indeed, most union-based campaigns (that actually go beyond simply paying for advertisements) are incredibly centralized, with leaders setting the agenda and asking members to show up to rallies. Sometimes unions invite allies to actions, too, but that's usually the extent to which they are involved.
How did we do it?
In six months, we've grown our Delivering Community Power database from zero to 30,000 supporters. We've had 300 new people sign up to volunteer. In December alone, supporters used our online tools (courtesy of New/Mode, a platform for advocacy groups and campaigners) to send 27,587 emails, and make 1,084 calls to their members of Parliament. Through the growing Delivering Community Power network, we've organized several national days of action; the largest saw demonstrations in 31 cities and thousands of people in the streets. Those actions were largely organized by rank-and-file members and allies recruited through the campaign.
List size is just a vanity metric, though. More importantly, we've created a new layer of leadership in the union – particularly young, female, and racialized workers. These activists are building teams around them, forging connections to community allies, and actively pressuring politicians. Take Elka, for example: a newcomer to Canada who's been a postal worker for less than a year. In the past few months, she's gone from signing an online petition to regularly canvassing her riding (along with her daughter and other supporters), giving presentations to community groups, and lobbying her MP on her own.
The first step was bringing in a database to communicate with supporters, track their engagement, and recruit leaders. We use NationBuilder, but there are many to choose from (here's a tool to help decide which is appropriate for your needs). That's a fundamental component, and hopefully most unions have already switched from a union-ware database to one designed for advocacy.
That means involving non-CUPW members as leaders, too – something that's almost unheard of within the labour movement.
The database also tells us who our supporters are and where they come from. We can tell if they're a postal worker or an ally (from another union, or from an environmental organization, for example), and we can tailor our message to them. This allows us to create more personalized communications and to speak to their interests – focusing, for example, on postal banking in small towns that don't have a bank, or on the right to strike for other trade unionists. Through Delivering Community Power, we're trying to have personalized conversations at scale.
Then we launched the website and a number of online actions: an overall petition, as well as specific and time-sensitive ones on postal banking and climate action; pledges of support for postal workers; polls and surveys; emails to MPs; and memes and shareable content. The idea is to create many points of entry for supporters (beyond the regular and often boring exhortations to "sign this petition!"). Then we created targeted ads for actions on Facebook, Twitter, and Google, aimed at people who are likely supporters, based on their interests, and who live in our list of priority ridings.
More importantly, we started visiting work floors, speaking to members about the campaign and how to get involved. We passed around paper petitions and everyone who signed got entered into the database and got an automated follow-up email. For some, that's the only action they took. Most, however, have emailed their MP or RSVP'd for a local event.
Space and structure
Since there are only two staff paid to work full time on Delivering Community Power, we decentralize our work as much as possible and train up local leaders. We hold mass orientation meetings on Zoom, a video conference software, for new supporters across the country. At the end, we give them a task, like collecting 30 petition signatures. When volunteers complete tasks, they're given another, like organizing a local event. We provide resources for supporters to gain new skills and take more action independently. These include speaking notes for local meetings and floor talks, petitions and handouts, recorded webinars, and organizing guides.
As supporters prove themselves capable, we provide more one-on-one support to help them take on leadership roles. Depending on their skill set, that could mean training others to do work-floor visits, planning a demonstration, or lobbying an MP.
We repeat that process constantly, identifying members in person or online who want to engage more. Quite often these are members who have never gone to a local meeting or been involved in any way. Usually, they're from racialized and under-represented groups.
Waseem is a young letter carrier I met at his first shop steward training. An obvious leader, he helped me give a shop floor talk, winning over members in one of the most hostile depots. Then he emailed his MP about postal banking, and came canvassing. Next, I invited him to speak at a rally. Since then, he's led a team of workers and allies to occupy MP offices and to crash several MP events.
Then there's Jihan, from Brampton, who has been a letter carrier for only two years. In November, she came with Waseem and helped occupy the finance minister's office, where she gave powerful and brilliant media interviews that have been viewed thousands of times on social media.
For Delivering Community Power, we brought in digital organizing to scale up engagement and direct, face-to-face pressure on government. Online petitions and emails are good for recruitment, but they don't win anything on their own.
Through Delivering Community Power, we're trying to have personalized conversations at scale.
Last summer, we were looking for members to attend a barbecue by the minister responsible for Canada Post. I trained a couple members on CallHub, an automated dialer often used for elections, and together we called through the entire local membership list in a few hours. We recruited half a dozen members, including Candace, a temp postal worker who knew little about the union. Candace had never spoken to a politician before and was hesitant, but with the help of others, she delivered a stack of petitions to the minister and asked them to commit to implementing the Delivering Community Power vision.
I knew that as big and powerful as CUPW is, the campaign couldn't live inside the union (or even within the other campaign partners' memberships). It needed to be open source, giving anyone interested the tools to start organizing and allow the campaign to grow as far and as fast as possible.
That means we've had people sign up and start organizing independently, collecting petition signatures, and delivering them to their MPs. Many of these are non-CUPW members. And as we've grown, I've looked through our list of supporters and asked people with specific skill sets to take leading roles. Nicole, for example, an ally, has worked on several election campaigns and is proficient with NationBuilder. She's now leading and training a team of volunteers to input data into our database. Kate, an ally, has taken over managing our social media pages and is training others how to use them most effectively.
Our supporters, inside the union and out, have countless skills to contribute, if we can only give them the space, structure, and support to do so.
It needed to be open source, giving anyone interested the tools to start organizing and allow the campaign to grow as far and as fast as possible.
The strategy hasn't been without its challenges. It subverts some of the natural union hierarchy that demands communications go from a national president (or board) to regional directors, to local presidents, to members. For the December 1 Day of Action to protest back-to-work legislation, for example, we emailed our list and asked anyone who wanted to organize a demonstration to fill out a Google form. Then we gave them an organizing guide and basic support by email, and let them get to work. That allowed us to pull off actions in 31 cities with less than four days' notice.
There were concerns that local presidents had not first been asked if they wanted to participate. Plus, some of the people who volunteered to organize demos were not known to local presidents. But we knew we didn't have time to call every local in the country to ask if they wanted to participate. Even if we'd had more time, presidents might have told us they didn't have the capacity to organize a demo, or might have taken days to find us the same people who signed up to volunteer. We knew that there was widespread support for the Day of Action and that it was a moment to bring in tons of new people with energy and passion.
Our strategy could grow the union in countless ways – in membership, member engagement, and ally support. The real potential will surface in the year ahead. We've laid the groundwork and provided the tools for members and allies to take hold of the campaign. Our work here also offers important lessons for other unions about how to engage and train members on a massive scale, and to build solidarity networks that extend far beyond workplaces and locals.