Conversations on ecological justice, healing, and decolonization
Book review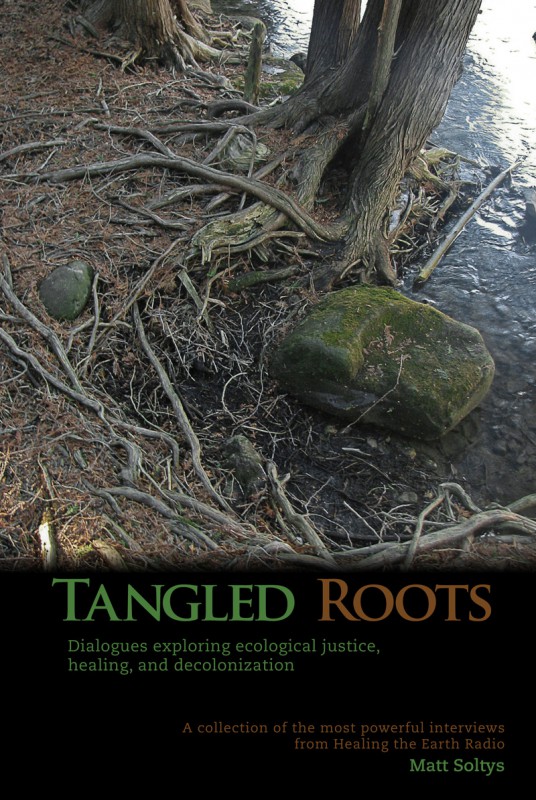 Tangled Roots
By Matt Soltys
Healing the Earth Press, 2012
"If those of us who care about the earth are to have a chance at actually stopping its destruction, we need to expand environmentalism way beyond its conventional boundaries," says author and activist Matt Soltys, describing the focus of his new book, Tangled Roots: Dialogues Exploring Ecological Justice, Healing, and Decolonization. "We need to see how everything environmental is inextricable from power relations like race, class, gender, and colonialism."
Tangled Roots is a collection of 12 interviews drawn from Healing the Earth Radio, a weekly radio show Soltys hosted in Guelph from 2005 to 2010, featuring the perspectives of a wide range of people taking up challenges posed by the ecological crisis. The book includes conversations with Ramona Africa of the black liberation group MOVE; peak-oil scholar Richard Heinberg; permaculturist Erik Ohlsen; and former political prisoner Jeffrey Luers, a member of the Earth Liberation Front. Chapters are introduced with full-page illustrations by Philippa Joly, each centred around a healing plant whose properties speak to the issues discussed in the interview.
Whether the subject is Indigenous warrior societies, electromagnetic pollution, or the climate justice movement, Soltys encourages the interviewees to make connections across issues. The interviews progress through the themes in the book's subtitle – ecological justice, healing, and decolonization.
This progression, and the deep interconnection of themes, challenges the reader to go beyond usual forms of engagement and ideological niches. The diversity of topics and ideas means each only gets brief attention, but the thorough endnotes offer background information and sources for learning more. This careful referencing is one of the book's greatest strengths.
Tangled Roots is not an introductory book; it takes concepts like Indigenous sovereignty and the inherent value of biodiversity as starting points to be built from rather than theses to defend. Those already passionate about environmental and social issues will find many opportunities to challenge themselves to deepen their understanding.
Readers like you keep Briarpatch alive and thriving. Subscribe today to support fiercely independent journalism.