20 food initiatives to get excited about
Community kitchens, food costing, markets and more!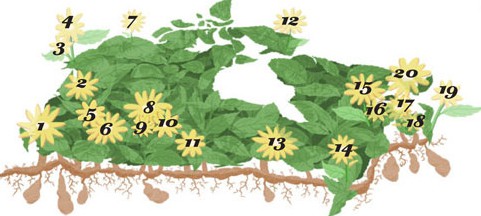 A recent study on the Canadian food movement found it to be uniquely decentralized and self-propagating in comparison to other social movements. Through phone and e-mail conversations with food activists across the country, Briarpatch learned about dozens of inter-connected but independent food-related initiatives that together are crafting a network of more sustainable, democratic and inclusive food systems that challenge our current corporate, industrial model. What follows is a small sampling of the most exciting initiatives we came across.
1. SOLEfood
Vancouver, B.C.
SOLEfood is an urban farm in Vancouver's Downtown Eastside dedicated to ensuring healthy community development, self-growth and food security by providing training and employment to Eastside residents. Located in the parking lot of the Astoria Hotel, the farm maximizes its small space to produce everything from tyee spinach to strawberries.
2. HEAL
northern B.C.
Healthy Eating and Active Living's (HEAL) mission is to combat the prevalence of chronic diseases by building a thriving network of healthy, sustainable communities in northern British Columbia. HEAL partners with the Northern Health Authority to provide seed grants to communities and organizations dedicated to promoting healthy citizens.
3. Fireweed Community Market
Whitehorse, Yukon
A community-driven initiative that promotes local production and consumption, this market offers a cornucopia of food, crafts and courses. Courses vary from a meat-cutting and sausage-making class to the homestead workshop series.
4. Yukon Hospital Traditional Diet Program
Run out of the Whitehorse General Hospital, this program provides traditional foods to First Nations patients. By providing moose and caribou soups and stews, and bannock, the program helps create a healing and familiar environment. Local hunters, outfitters and conservation officers donate the meat.
5. Hinton Community Garden Society
Located in the small town of Hinton, Alberta, this group runs an all-season, organic community garden and two huge repurposed greenhouses that were formerly used to grow trees in Jasper National Park. The society aims to reduce Hinton's greenhouse gas emissions, improve the community's food security and promote social cohesion and inclusiveness.
6. Sustainable, Equitable, Local and Regional Systems for food
This brand new initiative aims to give all Albertans access to healthy food and rebuild relationships with food providers. Beginning in central Alberta, the project will map the food resources in and around Sylvan Lake, Lacombe, Olds and Red Deer and build an action plan for a sustainable, equitable, economical and environmentally sound regional food system.
7. Inuvik Community Greenhouse
The Inuvik Community Greenhouse doesn't just provide fresh, economical produce to the residents of Inuvik, it is also a community hub, hosting events like fairs and weddings, and sharing resources. Housed in an old hockey arena, the greenhouse consists of 74 community garden plots and a commercial greenhouse.
8. Midwest Food Resources
Saskatchewan
Midwest Food Resources rebuilds the connection between people and their food in the areas of Lloydminster, Meadow Lake and the Battlefords, through initiatives such as the fresh food box and collective kitchen. With an emphasis on homemade, homegrown and nutritious food, the program encourages slowing down, socializing and self-reliance.
9. Station 20 West
Saskatoon, Sask.
Station 20 West Community Enterprise Centre will address inequitable access to nutritious food, employment, housing and health care in Saskatoon's West Side. Scheduled to open in July 2012, the centre will provide a food co-op, housing advocacy, employment and preventative health services to the city's core neighbourhoods.
10. Muskoday Organic Growers Co-op
Muskoday First Nation, Sask.
This co-op works with youth and elders, emphasizing self-reliance and Indigenous agricultural heritage. The bulk of the foodstuffs grown in Muskoday is organic seed and table potatoes, which the co-op intends to barter with other First Nations for products like fish from northern communities. They also grow Indigenous crops, in an effort to reclaim First Nations food sovereignty.
For more info, e-mail [email protected].
11. Harvest Moon Society
Clearwater, Man.
The Harvest Moon Society supports rural environments and sustainable agriculture through a rural learning centre. The centre hosts a variety of classes, workshops and activities, such as forest gardening and the prairie culture series, even offering a permaculture design certificate and university- and college-accredited courses.
12. Country Food Market
Iqaluit, Nunavut
This new monthly market connects producers with consumers, giving hunters a venue to sell their catch directly to other community members. By allowing the hunters to set their own prices and keep all the proceeds from the sales, the Country Food Market helps harvesters maintain their equipment and traditional lifestyle. Other communities in Nunavut are now looking to replicate the market based on this one's success.
13. True North Community Co-op
Thunder Bay, Ont.
A non-profit, community-based co-operative established in 2009, True North has become a hub for the distribution of locally produced food and crafts. The co-op partners with local producers and with the Nishnawbe Aski and Aroland First Nations to build community resilience in northern Ontario through a stronger localized economy.
14. FarmStart
Ontario
FarmStart works to ensure that the next generation of farmers develops economically viable, locally based and ecological agricultural enterprises through unique training workshops, market research and resources. FarmStart's McVean Incubator Farm in Brampton supports new farm enterprises by offering access to land, equipment, mentorship and infrastructure.
15. Boulangerie La Chapdelaine
Val-David, Que.
This artisanal bakery, which uses traditional recipes and wholesome ingredients, offers training and employment opportunities for people with intellectual disabilities. Maison Emmanuel, a life-sharing community for young people in need of special care, partners with the bakery to offer workshops in which community members learn to make bread, pizza, quiche and hummus.
16. Santropol Roulant
Montreal, Que.
This meals-on-wheels service has taken providing healthy food to the next level by opening new rooftop gardens, featuring four kinds of urban agriculture. With a terrace garden, a greenroof for row gardening, a small summer kitchen, a greenhouse and two beehives, Santropol Roulant is becoming a holistic community food centre.
17. Community Food Mentors New Brunswick
This program focuses on nurturing collective wisdom. The program has facilitated three three-day workshops so far, in which community members shared knowledge about nutrition, food preparation, community resources and more, with participants in turn becoming informal food experts within their communities. In the future, the project hopes to offer participants accreditation in national food handling standards.
For more info, e-mail [email protected].
18. Landless Gardeners
Fredericton, N.B.
The landless gardeners grow organic vegetables communally on the donated lawns of private landowners in downtown Fredericton. They start their seeds in a greenhouse donated by the Conservation Council of New Brunswick. The gardeners are dedicated to promoting and enhancing community gardening in Fredericton and have held numerous public workshops.
For more info, e-mail [email protected].
19. Nova Scotia Participatory Food Costing Project
This project helps to build food security for all Nova Scotians by examining the accessibility of nutritious food. It is unique because it engages those directly affected by food insecurity in data collection, decision-making, analysis, communications and dissemination. In May, 2011 the project released a comprehensive report on food insecurity for low-income families in the province.
20. Root Cellars Rock!
Newfoundland and Labrador
This initiative of the Food Security Network of Newfoundland and Labrador celebrates the province's unique agricultural heritage by promoting traditional food practices such as gardening, wild harvesting, healthy cooking, canning and cellaring. Through workshops and online communication, the initiative aims to increase food self-sufficiency, support local producers and enhance individual awareness about local food systems.
Readers like you keep Briarpatch alive and thriving. Subscribe today to support fiercely independent journalism.